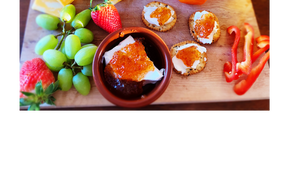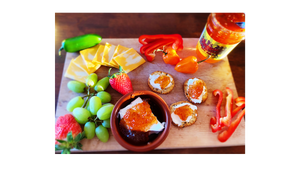 OUR PEPPER JELLY "ROCQUES" THE HOUSE
DISCOVER ROCQUE THE HOUSE PEPPER JELLY
WOMAN-OWNED
Rocque The House is a family-owned business, operated by 3rd generation Rocque family member, Heather Graber. She prides herself on a premium, all-natural product.
ABOUT US
MADE IN VERMONT
Sweet with just the right amount of heat, R. T. H. pepper jelly adds an element of surprise and a flavor to your cheese plate, your main dish or your dessert. Made in VT.
VIEW RECIPES
KIDS LOVE IT TOO
Rocque the House comes in original or hot habanero for a heat that suits everyone. Made in small batches to preserve taste and freshness, R.T.H. delivers premium all-natural jelly.
shop
SWEET WITH A LITTLE KICK
Our small batch pepper jelly is made in Vermont from organic and locally grown peppers. A family recipe that has been perfected with the perfect balance of sweet and spicy.
SHOP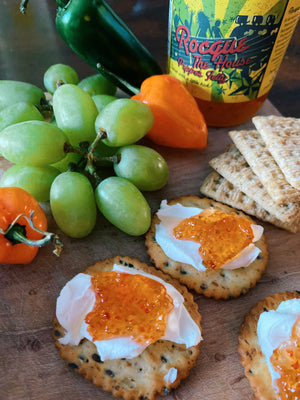 AN ENTERTAINER'S
SECRET WEAPON
Rocque the House spreads tradition through the sharing of food, adding flavor to everyday life.
The best pepper jelly I've ever had! I'll be telling everyone I meet about this.

★★★★★

Amanda Root

Underhill, VT
It's delicious. If you haven't tried this pepper jam yet, do yourself a favor and order a jar asap.

Jordan "The Hot Pepper Guy"

IG @hot_pepperguy
It is so versatile, pour it on brie, spread it on crackers, or dip vegetables in it. The possibilities are endless. Great housewarming gift too!

Danielle Gould

IG @realmofvibes
Great way to spice up many sweet and savory recipes. Definitely Bomb, Bomb!

The Pepper Princess

IG @pepperprincess509
It's so delicious. Decided it was my favorite cracker out of the rest I put out. It was delicious, thank you! Amazing pepper jelly!

Diane Lang

Essex, VT
It has that perfect combination of sweet and heat that I love. It's our favorite condiment at our table.

Danielle Nicole Enright

IG @abraujewelry
made in Vermont
We're proud to make a product with locally grown peppers and all-natural ingredients.
SHOP